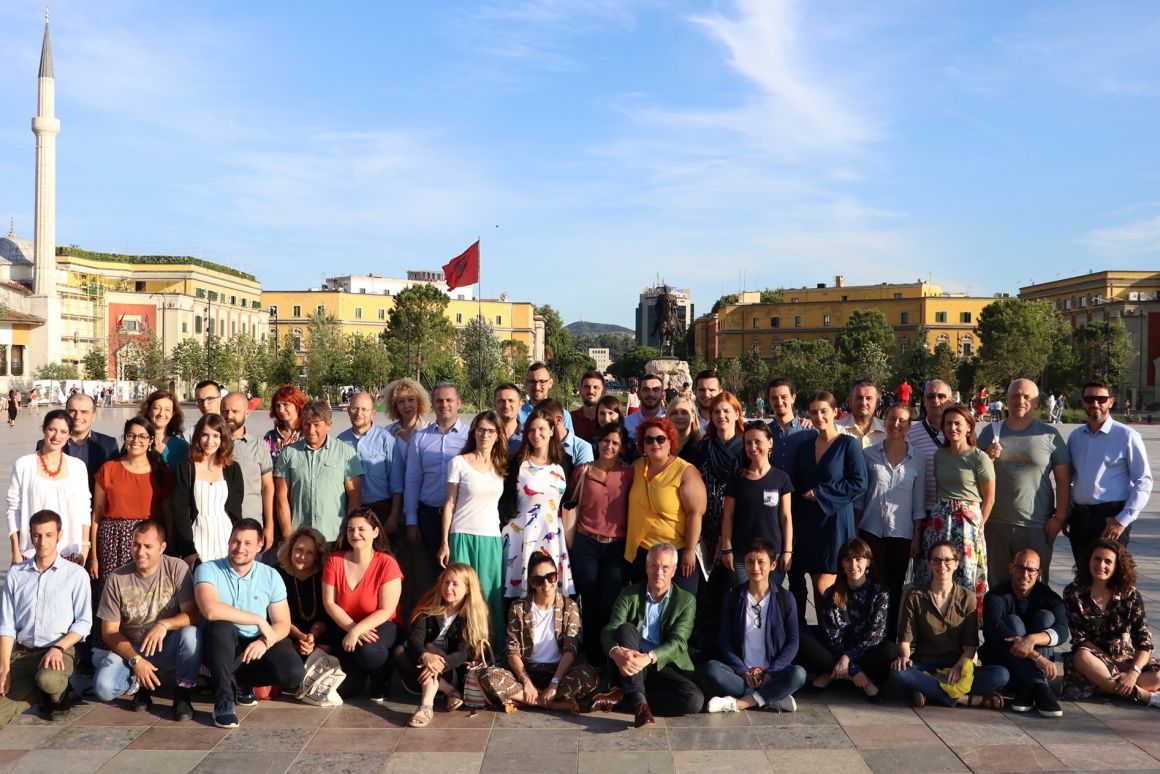 Green Ideas Presenters
Stavroula Bougani, Greece, Passionate for sustainable gastronomy and eco-friendly practices in Greek Gastronomy and Hospitality Industries. Active in introducing ethical consumerism and promoting innovative CSR practices for premium restaurants. Previously Sustainable Culinary Arts Consultant with experience in Hospitality Human Resources and Cultural & Corporate Events Management. Direct experience with Public Relations, Communication and Customer Services. Specialized in CSR, Business Management, Staff Employment & Training, Freelance Travel & Food Writer. "Foodity" Sustainable Food Movement Greece (SFMinGR) is a social startup tackling food waste and promotes sustainability in the Greek Culinary Arts Industry. Foodity is a low cost surplus food meals app for high end hotels and premium gastronomy restaurants.
Vlado Damjanović, Bosnia and Herzegovina, was supposed to teach English at a local school in his hometown. After graduation he decided that this was not his career path and decided to do something totally different. For two years he worked as a PR executive for tech brands, two years he spent designing graphics for top brands, for five years he worked as Head of Sales at prominent Belgrade startup. Today, he's shifting yet again, this time towards agriculture where he will be producing plum kernel oil, gluten free flower, and marzipan-tasting butter.
"Euroseed d.o.o" EuroSeed aims are to minimize food waste of the kernels of bone fruit (plum, apricot etc.) through the organized processing of high-quality oil production. Besides oil, the company will produce gluten-free, vegan flour, butter and wood.
Dion Deva, Kosovo, born in Gjakova on April 14, 1995. Student of the "Faculty of Mechanical Engineering" at University of Prishtina, respectively in the department of mechatronics. Dion has been a part of various social, political and artistic projects as well and as a result of his curiosity and will to improve the current situation within the community, he has created TE Pema.
"TE PEMA" has conceptualized, designed, and developed a revolutionary new product for urban green spaces, which is 100% based on local resources, takes only 4m2 and is able to clean more CO2 emissions than 70 trees combined


Naida Pandžić (Represented by Ermina   Halilagić), Bosnia and Herzegovina, Naida is from Sarajevo, and she is co-founder and CEO at social business Kesa. She is also owner of a small bakery. After graduating with honors, she could not get a job, so she started to think about her own business. Having used plastic bags all around her she started to collect them from playground fields creating new fashionable and everyday use products. Naida patented some of her products for which was awarded globally and holds "Inventor of the year in Bosnia and Herzegovina" award for 2013. Her dream is to contribute to waste reduction and hopes one day she will be remembered as a one who did great things for society. Naida feels that she already lives her dream what makes her really happy and proud.
"Kesa Ltd" Kesa's goal is to reduce the disposal of plastic bags in open fields in Bosnia and Herzegovina. Kesa produces high quality fashion accessories. Currently it has a portfolio of 6 products (bags, makeup bags, laptop cases, rain jackets, suit covers, rain jackets for pets etc.). All products are made of plastic bags
Albert Hysa, Albania, is born and resident in Belsh. He graduated for Law in Public Sector and he holds a Master Degree of Science in Economics and Law in International Markets. During university studies he has been very active, attending many training courses and improving his skills in managing time and communication by keeping an active role in some community groups and leisure activities. He is 25 year old. Last year he won another competition organised by Act for Society organization for the best innovative idea. The purpose that he is to this competition is to develop even more his city's tourism. And the other reason is to encourage young people from his city to invest there, to generate income and not to leave the city.
"Visit all 84 of Belshi's lakes via bicycle (2wheels and 4wheels )" To create a new bike rental service in the city of Belsh, fulfilling one of the current demands; The idea will give a very substantial and considerable contribution to the expansion of the tourism in Belsh. The bicycle lane in Belsh is about 2.2 km long, and is being built along the entire lake line of Belsh.
Genc Ibrahimi, Kosovo, is the creator of artistic artwork from glass, owner and employee in "GMB" company. He is in contact with renowned architects in the region and his current work is based on successful collaborations carried out over the years with the workshops performed at "UP" and "AAB" University where Genc has earned scholarships for further studies. "Recycled Glass Creations" Using recycled glass to design and build decorative glass mosaics and other decorative products. starting from interior products (such as lamps, dropped ceilings, glass mosaics, etc) as well as jewellery accessories made from glass pieces.
Vanja Jovanović, Serbia, is a vice-president of Centre for Participatory Education. After graduating in 1999 from the Faculty of Philosophy in Novi Sad, Serbia (Department for English Language and Literature) she moved to Belgrade. She has worked as a preschool English teacher for 23 years. Her main professional interest concerns early childhood education. She is the author and implementer of an early foreign language programme, based on contextually appropriate approach, post-method pedagogy and the principle of participation. In the period 2017-2019 she participated at national and international scientific meetings organized at the Faculty of Philosophy and Teacher Education Faculty in Belgrade, where she represented her works dealing with the topic of institutionalized early foreign language teaching and learning. She is a co-author of a seminar accredited by Serbian Institute for the Improvement of Education. The aim of the seminar is to introduce the concept and significance of participation in early childhood education, which is recognized as one of the basic rights prescribed by UN Convention on the Rights of the Child and the underlying principle of contemporary high quality educational programmes. She lives in Belgrade with her husband and two daughters.
"AndraMolje " Our business idea is to start the production of innovative toys that are made of environmentally friendly materials and are designed on the bases of research conducted with children. Our toys are transformative boards with accompanying elements that children use in order to create different functions, shapes and purposes thereof. The process of their production involves the engagement of persons with disabilities who belong to socially vulnerable groups.
Valton Karaxhiu, Kosovo, is the ideator and founder of PANDATEX. He has more than 20 years of experience in institutional development of non-governmental organizations in Kosovo, the Balkans and the US in the field of environment, governance and democracy. He has worked as a private consultant and facilitator for Kosovo's sincere international contractor and is the co-author of USAID 2019 - 2024 assessment reports (DRG assessment) for civil society in Kosovo.
"PANDATEX" Recycling second hand clothes into industrial sheets/mats. The company will feature 2 main products: industrial sheets/mats and recycled clothes. Second hand clothes that are well preserved will be recycled and sold for direct reuse, whereas others will be recycled into sheets/mats for industrial use, primarily targeting restaurants, auto shops, and factories in which the employees deal with oils and various greasy materials.
Slobodan Knežević, Serbia, was born in 1993. Even in an elementary school he was interested in birds and nature. He stepped into the world of protection and study of birds and nature at the age of 14 when he climbed to a high-voltage transmission line where nesting saker falcon was nesting to collect the remains of prey of this extremely endangered species for his research. Since then he has been participating in all the activities of the Bird Protection and Study Society of Serbia, first as a volunteer, then as a practitioner, and since 2016 as a project assistant. Slobodan currently coordinates educational activities and is at the forefront of the communication sector within the organization. He believes that together we can do great things for nature and people.
"Eye of the Falcon" Creating a sustainable means of financing of nature protected areas through ecotourism services. Our idea is the placement and renting of an innovative and mobile photo-hides for bird and nature photography in the protected area Lake Veliko Blato, which has the status of IBA area (Important Bird Area).
Bozina Komatina, Montenegro was born on 7th October in 1974 in Podgorica. Mechanical engineer by profession, he works many years in IT department as system engineer and web programmer. Full of passion for testing and inventing electric vehicles and eco-friendly devices. In 2004 started MADEinMONTENEGRO.com, one of the first Montenegrin web portals that promotes everything positive in the country. Part of the organization team in one of the strongest environmental NGO in Montenegro - Biciklo.me – that promotes bike riding and better rights for cyclists. Previous green projects "Electric bike from the scrap", "Recycling of laptop batteries", "Emergency electricity generator", "Old satellite dish to solar cooker". One of his big passions is discovering new ways for usage of solar energy for food processing.
"SunRocket – solar cooker" Cooking food using just solar energy. Smart usage of solar energy to prepare food. No CO2 emission. No energy cost. Our solution can make solar cooking affordable to everyone. That is why we developed SunRocket. Very efficient solar cooker that converts 80% solar energy to heat.
Jordanco Lefkov, North Macedonia, is president of the association "Core group for sustainable rice production - RICE TILLER, Cheshinovo, Cheshinovo-Obleshevo". As experienced farm leader and ex-mayor of the municipality Cheshinovo-Obleshevo, he devoted his entire life and career in improving of the socio-economic environment of the local population in this rural region, which is characterized by strong migration especially of the young population. To that direction, he initiated activities for promotion of rural tourism, production of local healthy food, promotion of natural beauties, rural traditions and culture in the eastern region of the country. As a veterinary technician and passionate lover of nature, he, along with the Macedonian Ecological Society, undertakes local activities and participates in projects for the preservation of the natural habitats in this region, especially for the protection of the stork, which has the densest population in this municipality and is a part of the rural living. He is initiator for establishment of the Rice Cluster, which has strong power in creating of the public policy for rice sub sector development. Jordanco recognized the Nature Conservation programme of the Swiss Agency for Development and Cooperation, implemented by FARMAHEM, as a huge opportunity for making positive changes in the rice sub-sector, thus became actively involved in the implementation of the activities for sustainable rice production, within which is established the association RICE TILLER.
"PRODUCTION OF BIO - SMART RICE" Тhe main objective of this green business idea is the implementation of a technology for rice production with dry seedling of seed materials, which is a substitute for the traditional way of seedling in water, combined with laser leveling of the agricultural land and controlled use of inputs, thus obtaining a unique healthy product BIO- SMART RICE, produced with big care for the nature and the human health. as а result of this green business idea will be produced white and integral rise, which is healthy, quality, environmentally friendly and safe.
Stamatina Ioanna Moschandreou, Greece, an electrical engineer (NTUA) specialized in renewable energy and focused on energy transition. Member of the cooperative "Wind of Renewal" which promotes clean energy transition and ways to fight against energy poverty.
"Community Energy River" CER has developed an end to end system supportive to the creation of citizen's energy cooperatives. CER Accelerates the creation of Energy Cooperatives, Digitalizes their management, Facilitates their investments and Develops their Market opportunities.
Ana Novkovic, Serbia, is an environmental researcher and activist interested and engaged with topics of regenerative sustainability, sustainability transformations, environmental behaviour and communications. She has been involved in researching environmental communication and mapping environmental conflicts in the Balkans. In 2018, together with friends, she has founded The Urban Regenerative Sustainability Centre in Novi Sad, Serbia, and they are working together to improve the quality of life in the community, while respecting the environment, the principles and values of human rights, inter-culturalism and neighbourly solidarity
"Stvaraoteka" Stvar(a)oteka - the first library of things in Serbia. Stvar(a)oteka will provide affordable access to items that are used occasionally, such as tools, various electrical household appliances, and equipment for hobbies or sports. This service will operate like a conventional book library, but instead of books it will lend items.
Sokol Prenga, Albania, is a master pastry chef, baker and chocolatier with a passion for creating delicious, visually appealing pastries and confections. Also master of baking sciences and proper flavour combinations. He always focused on high standards for taste and quality, while maintaining profitable margins. He has skills in communication and leadership skills and is expert in managing kitchen staff and preparing foods at reduced cost without compromising quality and taste. He has terminated his study in culinary in 1991 and since then has worked in restaurants.
"Table of Taste" Promotion of traditional Albanian cooking and products in an inclusive environment. The guests will be all seated in the same table, referred to as the social table, in order to share the experience together. Promotion of local Albanian products including agriculture, craftsmanship, alcoholic beverages.
Olga Rajchikj, North Macedonia, is a passionate activist about social change with experience in various types of entrepreneurship projects and start-up competitions. Her mission is to create a business model that will not only be sustainable, but will also be an example to all young people in her country that businesses can make an impact. Olga is currently working in a family business, but is also affiliated as Co-Founder of Challenger, and a Member of the Youth Council of US Embassy in North Macedonia. She is devoted to working on creative initiatives that ensure social change and youth leadership, thus has taken part in formation and development of few social enterprises. Moreover, she has experience in project management. Olga holds a BA in Business Studies and an MSc in Management of Human Resources, as well as she is certified in digital marketing.
"Challenger" Our product is an innovative mobile application - Challenger, a marketplace that offers a socially responsible marketing channel that brings businesses and users together in the act of creating a better society. In the Challenger virtual store, businesses place their products/services, for which users can get discounts (with their accumulated coins). For every km on a bicycle or on foot users get Challenger coins).
Ana Shima, Albania, has studied Political Sciences and International Relations in Sweden and after returning in Albania started working at a local NGO. After some time she decided to pursue her dream of opening her own company of gourmet, quality vegan products. This was due to the lack of these type of products in the country, but also because of the high quality of locally sourced ingredients that are cultivated in Albania.
" Pemla Living Foods " The main objective of the business is the production of high quality, artisanal nut butters, with locally sourced ingredients to increase demand for cultivation of tree nuts and oil seeds, thereby stimulating rural development. Half of the grant funds will be used to improve the nut butter making process, by acquiring a nut cracking machine and a few machines to transform the waste shells into pellets, so that we use all of the raw ingredients and have 0 waste.
Darko Spaić, Montenegro, born in Podgorica. Though his employment with many foreign companies and representative offices in Montenegro (European Observer Mission, US Embassy, etc), he had opportunity to show foreigners the nature and beauty of Montenegro. That inspired him to give rebirth to his village and provide an appropriate place for outdoor activities near Podgorica. He inherited a land from my grandfather, which he is planning to revitalize and start promote his touristic offer, the first one on that side of Montenegro.
"Trip to the "Cottage"The project aims to reconstruct an old cottage that aims to become focal point of the tourist offer that will bring life to the village. Podgorica does not have quality spaces for outdoor activities and this project that is only 26 km from the center can provide connection with the traditional way of life and coexistence with nature.
Dejan Spasovic, North Macedonia, (born in Skopje in 1974) has graduated at the sculpture department of the Skopje Faculty of Arts in 1997 and obtained MA degree at the same faculty in 2017. His main interest is focused on interactivity in general, be it in audio-visual installations, kinetic sculptures or performances. He has implemented several individual and many group exhibitions in Macedonia and abroad. In the last several years he works on analysis and deconstruction of the building styles and techniques in order to revive them and adapt them to the needs of the modern people. He is a natural building consultant who runs the process of design and construction of facilities made of natural materials. In 2018 he started organizing life skills creative workshops for children and youth. He is founder and coordinator of the Rakatrak Habitat Academy.
"RAKATRAK'' NATURAL LIFE SKILLS EDUCATION CENTRE FOR CHILDREN" We create green spaces for parents and kids that want to escape polluted Skopje and learn life skills. "Rakatrak" as green business located 16km from Skopje will offer tailored seasonal workshops for parents and kids. The idea of formalizing "Rakatrak" as registered entity comes from the need and market request, and it completely supplements our green story and way of life.
Vasilios Stenos, Greece, Agricultural & Environmental Engineer, 12 years international business background, entrepreneurial interests, relationship-building and solution-oriented skills seriously interested in solving the feeding issue on Earth as it will arise due to overpopulation. He also holds a BSc & MSc in Business Economics & Rural Engineering from the University of Athens, an MSc in Earth & Environmental Engineering from Columbia University and a Business Certificate from Columbia Business School. He is fluent in English and Greek, as well as proficient in German and has served as a Special Forces Parachutist in the Greek Army."
"Solmeyea" offers animal feed Protein from micro-algae with a unique process by utilizing the ambient air and increasing the capacity efficiency by at least 20%. Solmeyea's unique process and animal feed product help Animal Breeders solve the upcoming shortage of feed due to overpopulation & arable land scarcity
Salko Užičanin, Bosnia and Herzegovina, was born in Tuzla. He is currently studying medicine at University of Tuzla. During high school, he was awarded on numerous competitions for his knowledge and creativity. He won a first prize at the international competition of young inventors. He is co-founder and CEO at social business Solheat. "SolHeat Ltd" SolHeat aims to provide clean energy at affordable prices to households. Solheat has designed a new air chamber that makes their products more efficient and unique on the market. Product can be patented. Our products are 20% cheaper than those sold by competitors.
Aleksandrina Vujačić, Montenegro, is 52 years old, electrical engineer, computer science gymnasium teacher, leader of the school Entrepreneurial club, member of the school Eco board, permaculture designer and owner of small private business in the field of food production. She is also the founder and the president of Engineer pedagogic forum, association of teachers-engineers, autor of 18 licenced programs for professional development of teachers, both from the field of engineering and environmental protection and TED speaker. She is the member of the Montenegrin Qualification Council, the roof body of the Montenegrin Qualification Framework. She is passionate in exploring the possibilities of redesigning urban space in order to meet both: people needs and nature restrictions.
"OAKVILLE - School agriculture economy" Establishing school commercial agricultural local economy and creation of conditions for the preservation of the identity and biodiversity of space through long-term and stable supply of Montenegrin central geographical area with autochthonous perennial seedlings of oak, hackberry and laurel produced in the students' local economy
Partners

Merisa Abdullahu works as a project manager at Forum for Civic Initiatives. Her work is mainly related with sustainable development of local cso's and youth development. Merisa currently studies law at University for Business and Technology.
Vesna Bajšanski-Agić is the Executive Director of Mozaik Foundation. She joined Mozaik in 2008, as Mozaik begun its transformation into a social enterprise. Today, Mozaik Foundation is the leading social enterprise in the Western Balkans, engaged in programs relevant to youth social entrepreneurship and social innovation. She is a Governing Board member of two social businesses that support the disadvantaged and promote reconciliation in an economically sustainable way, and a Board member/president of two national NGOs. Prior to joining Mozaik, Vesna worked for ten years in various management positions in other national NGOs focused on social justice and she is an internationally certified trainer for Education for Social Justice. She is a member of several national and international groups and networks, including Governing Council member of the EFC, Steering Committee chairperson of GEF, SIGN Network, ISSA. She has a degree in Economics from the University of Sarajevo. Vesna is a 2012 recipient of the European Marshall Memorial Fellowship awarded by the German Marshall Fund of the United States.
Oltion Beshiri is a Program Manager at FIQ where he closely works on the projects concerning the entrepreneurship and social innovation in Kosovo. In addition, has a broad experience in digital marketing and online campaigns. Prior to his current position, Oltion was involved in the organisation of Startup Grind by Google for Entrepreneurs; NASA's International Space App Challenge Prishtina and many other projects.
Anica-Maja Boljevic has been the Executive Director of the Fund for Active Citizenship (fAKT) since its foundation in 2008. She served as the Head of Catholic Relief Services (CRS) program in Montenegro from November 2002 to October 2005, after she had managed CRS youth advocacy and leadership program for two years. Before joining CRS, Maja was an English high school teacher for eight years. Her professional background and experience have been strongly linked to education and civil society programs, with an emphasis on supporting and fostering civic participation to encourage proactive problem solving and responsive governance. She is a member of the national Council for NGO Development and serves on several boards of Montenegrin non-profit organizations.
Biljana Dakic Djordjevic is the Executive Director of Trag Foundation, an indigenous non-profit foundation supporting local communities and grassroots activism in Serbia. Trag Foundation encourages citizens' engagement and promotes local philanthropy. Biljana has eighteen years of professional experience in the non-profit sector, with extensive knowledge on fundraising and partnerships development, strategic planning, program management, and cross-sector cooperation. From 2012-2014, she managed a regional grant-making program with the Balkan Trust for Democracy (BTD), a project of the German Marshall Fund of the United States. As the Development Director of the Belgrade Fund for Political Excellence from 2004-2012, she supported capacity building of political and public leaders in Serbia and the Balkans. Biljana is a board member of the UN Global Compact in Serbia, Serbian Philanthropy Forum and DobroCiniTi philanthropic initiative. She is Deputy Chair of the Council for Corporate Social Responsibility affiliated with the Serbian Chamber of Commerce.  
Avdo Halilović young inventor and entrepreneur with more than 10 years of experience in running business. Avdo holds University degrees in management, international finances, and industrial engineering. Owner of few globally awarded patents and two companies in constructions and health industries. Expert Associate at Inventors Association of Bosnia and Herzegovina, helped inventors to protect, present and sell or send to market their IPs all over the world. Currently working as a Social Business Mentor in Mozaik Foundation Impact Incubator, helping young social entrepreneurs to make our world a better place.
Irina Janevska is passionate activist with extensive international experience in non-formal education, advocacy and social entrepreneurship. Irina is affiliated as Founder & President of The Organization for Social innovation "ARNO", Y-PEER Macedonia Focal Point, Global Shaper (Curator 2014) at the World Economic Forum (Global Shapers Skopje Hub) devoted to working on advocacy and creative initiatives that ensure social change and community outreach. Irina holds a BA in Communications Sciences and MA in Cultural Studies. "ARNO" (founded 2013) is recognized in the country for the devoted energy and advocacy of Social Entrepreneurship, Green Business Ideas and innovative approaches for solving social issues (organized the First Cooking Classes in the country for promotion of VET and SE, created the Campaign "MenEngage" and held the First Men Fair for promoting Gender Equality (cooking and ironing workshops for men and boys) etc.)
Anto Jankovic has been a philanthropy development program manager in the Fund for Active Citizenship since 2009. Economist by education, social entrepreneur by his soul, with more than 18 years of experience in policy development, CSOs, business and media. Professional interests: social entrepreneurship, social economy, civic activism, philanthropy and CSR, green economy, ICT / internet business. Consultancy experience: business planning, strategic planning, marketing, advocacy and lobbying. Communicative, open for new challenges, individual and team worker... For the last 7 years Anto has focused his professional activities in promoting and developing social entrepreneurship in Montenegro. He is author of several reports on social economy and social enterprises in Montenegro and he is President of the Center for Economic Prosperity and Freedom - CEPS and also member of EMES - International Research Network and the Management Committee member of European Cooperation in Science and Technology (EMPOWER-SE Action - Empowering the next generation of social enterprise scholars).
Kostantina Keruti is program manager at Partners Albania for Change and Development. She is responsible for key aspects of projects implementation and management primarily focused on philanthropy development and promotion, CSR, social enterprises and social innovation. Kostandina has extensive experience in education and not-for-profit sector, including working as specialist at Institute for Curricula and Training and professor at University of Tirana, project coordinator and researcher for Program Alternative for Social Stimulation (PASS) organization, Albanian Council on Foreign Relations (ACFR), and serving as UNICEF national trainer on environmental education.
Klotilda Kosta is a Director of Programs at Partners Albania for Change and Development. She is a board member of the Balkan Civil Society Development Network (BCSDN). Since 2005, she is part of the management team of Partners Albania, designing and managing several projects for the development of civil society organisations in the country, and advocating to create an enabling legal environment for the operation of CSOs. Ms. Kosta is an expert in designing and delivering capacity building programs, technical assistance and consultancy thanks to a great exposure to best training methodologies at an international level and over 15 year experience in the area. She is a certified Anti-Corruption Practitioner, facilitating Local Government Units to prepare and implement Anticorruption Strategic Action Plans. Ms. Kosta is a gender expert, preparing and delivering training programs on gender issues, and facilitating the preparation of gender policies and action plans for state institutions and local government units. She is co-author of different research and publications in the areas of her expertise. Ms. Kosta holds a MSc degree in Social Work.
Katerina Panova Matoska is Programme Assistant at ARNO. Katerina's engagement in the organization started with the project "Philanthropy for Green Ideas" and continued with coordination of ARNO's joint project with the Y-PEER Network and UNFPA. Her lead role was to organize several national events for strengthening the programs for peer education, including gender transformative programs and to provide logistic support to the campaign "MenEngage". Being passionate on work with grassroots communities, Katerina also provided support to the implementation of the "Changes for sustainability: Slow Food Cooking Classes" project and contributed towards greater promotion of the concept of social entrepreneurship. Katerina is certified pharmacist. She was inspired by the dynamic and creative work in the NGO's sector, which was the main factor for her job transformation.
Ivana Markovic is the Grantmaking Program Senior Adviser at Trag Foundation. She has been with Trag since 2005 and currently leads grant program team. From 2008 to 2018 Ivana has been responsible for development and management of all grant programs in Trag, including management of decision making process. She has an excellent knowledge of civil sector in Serbia and significant experience in grant making based on bottom-up approach. Ivana has graduated from Landscape Architecture and she is certified by Project for Public Spaces (USA) as a Place-making consultant for Serbia. 
Panagiotis Tzannetakis is currently working with HumanRights360, focusing on social innovation, networking, and program design and implementation. He collaborated with Omnes, a grassroots housing association in Kilkis. Prior to joining HumanRights360, Panagiotis was working with Help Refugees, co-founding the Greek branch of the grassroots charity, where he focused on fostering partnerships between diverse stakeholders, and supporting projects working towards the inclusion of newcomers. Panagiotis is a founding member of the Khora Community Centre in Athens. Panagiotis is an associate of Symbiosis, Civic School of Political Studies, supporting in the organisations of seminars on urban practice and social inclusion. He is a member of the Technical Steering Committee of 'Curing the Limbo', an Urban Innovative Actions funded pilot housing project in Athens, and a member of the Board of Experts of the Balkan Forum. He represents HumanRights360 in the Greek Network for the Right to Shelter and Housing, where he serves as the secretary of the Board of Directors.
Veroniki Zerva is the Community Engagement and Expansion Lead of Reload Greece Foundation since 2017 programme managing the international pre-accelerator, Young Entrepreneurs Programme running across 5 countries, developing strategic partnerships with universities and key stakeholders and scouting for the Foundation. Prior to entering the fascinating startup world, she had managed award-winning PR campaigns for the European Commission and the European Parliament, as well as, multinational companies such as Google. Veroniki holds a degree in Political Science and History and at the moment concludes her Executive Masters in Global Business at Saïd Business School, University of Oxford.  
Guests
Mirjana Šakić is responsible for developing Erste Group Bank's social banking – which aims to help those on low incomes, new entrepreneurs and social organisations – across central and Eastern Europe. As well as designing strategies and activities to support social enterprises and social finance, Mirjana also helped develop the firm's "supERSTEp" micro-banking programme for young entrepreneurs and start-ups in Serbia.
Xinying Tok has over 13 years' experience working in banking, consulting and sustainability. She currently focuses on issues around sustainable investments and energy transition in Asia. She has worked at DBS Bank in roles ranging from risk management, equity research and structured financing as well as in the philanthropic sector developing strategies to mitigate climate change in China and the US. In 2017, she was a Fellow at the Climate Strategies Accelerator run by Packard Foundation, Oak Foundation and Good Energies Fund focused on greening Southeast Asia's freight industry. She has conducted training on Green Freight & Logistics for Southeast Asian government and industry representatives and was a speaker at the China Youth Climate Action Network's annual conference.
Hong Lin has devoted herself to the philanthropic sector since 2010 as Director of programs at Narada Foundation, making a change from a more than ten year's career as a software engineer and program manager. Her former employers include Sun Microsystems, Microsoft and a Silicon Valley startup. She holds Master's and Bachelor's Degrees in Computer Science from the University of Wisconsin, Madison and the University of Geneva, Switzerland. She is currently the Secretary General of Ginkgo Foundation. Inspired by Ashoka Fellow Program, this foundation is focusing on sponsoring young social entrepreneurs in Mainland China.

Organizers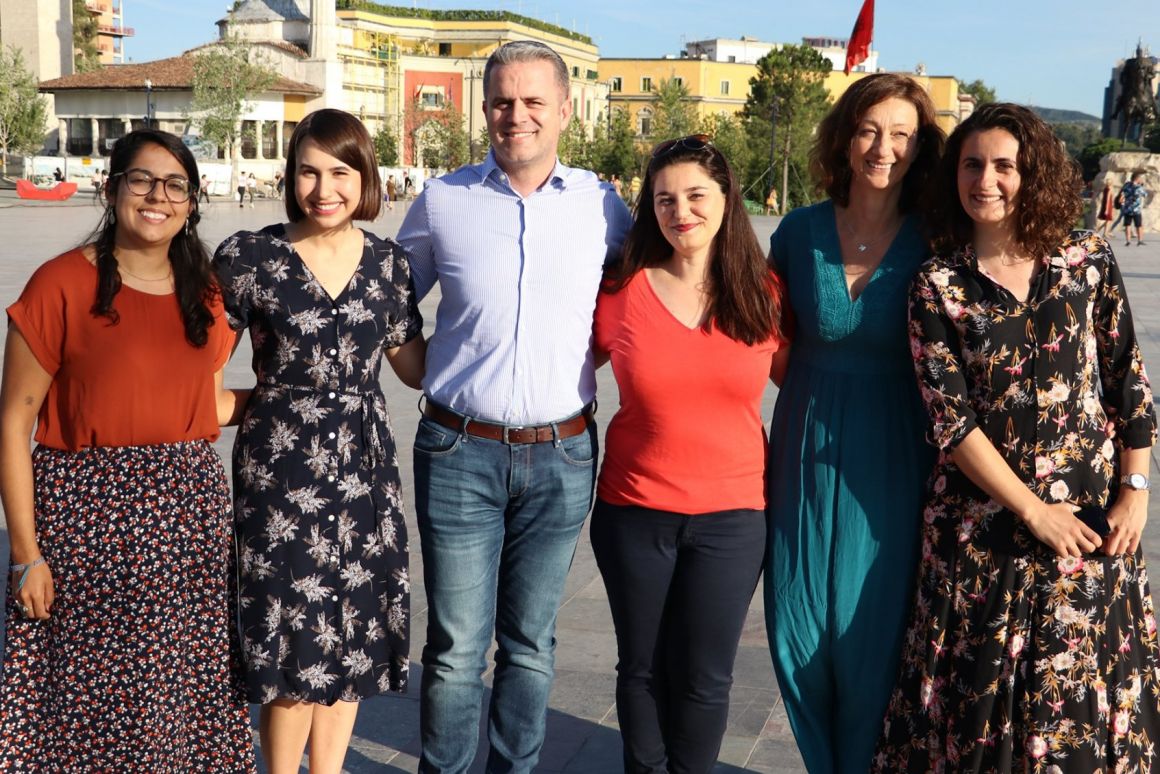 Visar Azemi is the Executive Director at the Balkan Green Foundation. Previously, Visar served as the representative and lecturer for the University of Maryland University College (UMUC) in Camp Bondsteel, Kosovo. He has over ten years of professional experience in the non-profit sector, with extensive knowledge in partnership development, strategic planning, program management, and marketing. His prior work also includes management work with the Central Texas College, International Organization for Migration, and KBR. Visar holds a graduate degree in electrical engineering from the University of Pristina, a second Bachelor's degree in Management Studies, and a Master's degree in International Financial Management from University of Maryland University College.
Rinora Gojani is the Program Manager at the Balkan Green Foundation. Rinora specialized in European Union politics and policy and has a special interest in the energy sector, sustainable development, and activism in the Western Balkans. Previously, Rinora worked as a Senior Research/Policy Analyst for sustainable development issues at the Institute for Development Policy, where she also liaised with global environmental and sustainable development policy organizations. Additionally, she worked at the Ministry of European Integration where she cooperated intensively with the Ministry of Energy and Mining on providing inputs to the European Commission Progress Report. Rinora has been active in various civil society organizations, such as Integra NGO, where she coordinated 'Our Future European Integration' project, an exchange program which brought together young people from Kosovo, Serbia, and the Netherlands and Youth Initiative for Human Rights, where she mobilized volunteers, organized street actions and monitored implementation of laws. Rinora has extensive experience in fundraising and organizing campaigns, with a focus on social, environmental, and development issues.
Antoaneta Ivanova is Program Manager of Philanthropy for Green Ideas, a regional program of Balkan Green Foundation that stimulates and encourages ambitious entrepreneurs within the Western Balkans in generating green business ideas that utilize local resources and revitalize disappearing traditional production chains and community-based markets. Antoaneta has immense 15-year experience in the civil society sector in Western Balkans with focus on youth employment and social entrepreneurship development. Antoaneta's primary focus has always been to map potential social innovators from the Balkan region and to help them to build their businesses from scratch, to support them in boosting their capacities, as well as to mentor and motivate them in enhancing their outreach.
Sonia Jagtiani is a program assistant for the Western Balkans and Sustainable Development programs. Prior to joining the Fund, Ms. Jagtiani worked as a researcher in Beirut for the Memory Initiatives on Syrian Cultures, researching the role of Syrian visual art in preserving and building cultural memory after the outbreak of the conflict. During 2016, she worked for small civil society initiatives in Lesbos, Athens, and the Ritsona refugee camp supporting refugees as a translator and doing community outreach organizing and advocacy to fill essential gaps. Ms. Jagtiani also worked in London for organizations supporting immigration detainees, asylum seekers, and refugees and as an ESL teacher in France. She holds a Master of Arts in religion in global politics from the School of Oriental and African Studies, University of London, where she concentrated on forced migration and human rights studies. She also holds a Bachelor of Arts from Louisiana State University where she double majored in international studies and French and minored in political science. She is fluent in French, Hindi, and Urdu, intermediate in Arabic and beginner in Spanish.
Mia Vukojević is the Program Director for the RBF's Western Balkans Program. Ms. Vukojević brings exceptional experience working with civil society, international organizations, governments, and grant making institutions in the Western Balkans and beyond. She most recently served as a program officer for the Oak Foundation's Issues Affecting Women Programme in Geneva, Switzerland. Her program development and grant making expertise includes strategies for building accountability and citizen participation, strengthening organizational capacity, and supporting the leadership, knowledge, networks, and engagement needed to advance movements for system change. Prior to her tenure at the Oak Foundation, Ms. Vukojević worked with the Organization for Security and Cooperation in Europe as a monitoring and reporting officer for the Special Monitoring Mission to Ukraine, served as executive director of the Trag Foundation in Serbia, and managed humanitarian emergency response programs for Oxfam Canada and Oxfam Great Britain. Ms. Vukojević holds an MA from Carleton University's Institute of European and Russian Studies, Faculty of Public Administration and Management in Ottawa.