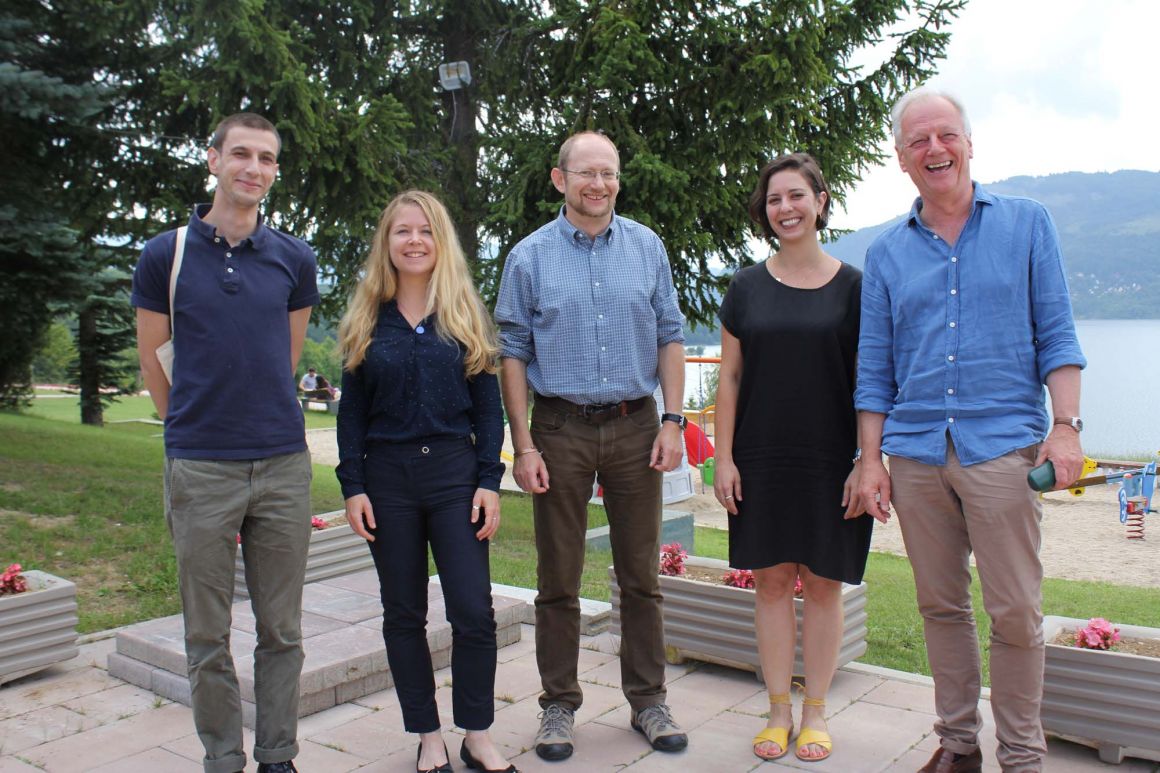 Panagiotis Tzannetakis is currently working with Help Refugees, a grassroots charity founded in 2015 in response to the 'refugee crisis'. Panagiotis focuses on fostering partnerships between diverse stakeholders, and supporting projects working towards the inclusion of newcomers. Panagiotis is a founding member of the Khora Community Centre in Athens. Panagiotis holds a BSc in Architecture, from the Bartlett School of Architecture, UCL, and a BTEC in Art and Design from Byam Shaw School of Art, Central St.Martins.
Jessie Hronešová is currently managing the project portfolio for the Western Balkans for the London-based international development consultancy Aktis Strategy, with a special focus on radicalization, independent media and strategic communications. Jessie has an ample experience with working in international development especially in the Balkans: she previously worked at the International Criminal Tribunal for the former Yugoslavia, The Organization for Security and Cooperation in Europe in Bosnia and Herzegovina, and the Balkan Investigative Reporting Network in Sarajevo and Belgrade. In her research and doctoral work she has mostly focused on reparations, community-building and transitional justice in the former Yugoslavia from the perspective of victim and veteran associations. She authored several studies on identity politics (including Post-War Ethno-National Identities of Young People in Bosnia and Herzegovina, 2012) and retributive transitional justice in several academic journals. Prior to her doctoral studies, Jessie also conducted research into Euroscepticism and European identities for the Czech Academy of Sciences in Prague.
Andras Krolopp joined the TNC in 2012 as Senior Policy Advisor for TNC's Africa Region, focusing on EU policy issues. He is now with the Europe Region, covering European governmental relations with special focus on the EU institutions as well as on Denmark, Finland and Sweden in support of TNC's policy, conservation and public funding priorities. Currently he is Program Director for the "Balkans" component of the Enterprise grant and managing an EU funded project on private lands conservation. Prior joining TNC, Andras was working for IUCN (Brussels) first as Deputy Head for the Countdown 2010 Initiative, later as Senior Policy Advisor covering EU biodiversity and regional policies. He was also seconded to the Hungarian Government during its EU presidency and covered Biodiversity finance in preparations and during CBD COP in 2010. Before working for IUCN he was engaged with various NGOs, like the CEEweb (an NGO network covering Central and Eastern Europe), Global Nature Fund (Germany) and the European Centre for Nature Conservation (Netherlands). Andras has the MSc in Environmental Management and degrees in Biology and Geography.  Besides his Hungarian mother tongue, he speaks English, German and has basic knowledge of Dutch and Russian languages.
Ariadne Papagapitos is the program director for the Peacebuilding program of the Rockefeller Brothers Fund for one more month. In August, she will be joining the team at Localized, a new learning platform that connects students and young professionals in emerging markets to global professionals who can help jumpstart their careers by offering guidance and expertise in languages they share. She held a number of jobs in the fields of human rights and development in Greece, the Middle East, and India before joining the RBF, but that was so long ago that it's hard to recall.  
Andreas von Schoenberg has a successful 30-year track-record in the renewable energy (solar, wind and biogas) and waste recycling industries in Germany and abroad. In the 1980s Andreas was responsible for international sales and marketing at a medium-sized environmental technology company specialized on anaerobic digestion plants. Moving into waste management and recycling services he established the Cleanaway brand in Germany for Australian parent company Brambles in the 1990s. Subsequently, he was responsible for Cleanaway's strategic planning in Asia, Australia and Europe. After the merger with the SULO Group in 2006 and the acquisition by the international environmental services group Veolia Environment in the following year he managed the Business Development, M&A, Communications and Marketing departments. In 2010-12 he developed the UK business of Colexon Energy, a German solar EPC and wholesaler. In 2013 he set up Andreas von Schoenberg Consulting in Berlin, which specializes on advising public and private sector clients on energy transition and resource efficiency issues. He has an MA degree in modern languages from Oxford University.