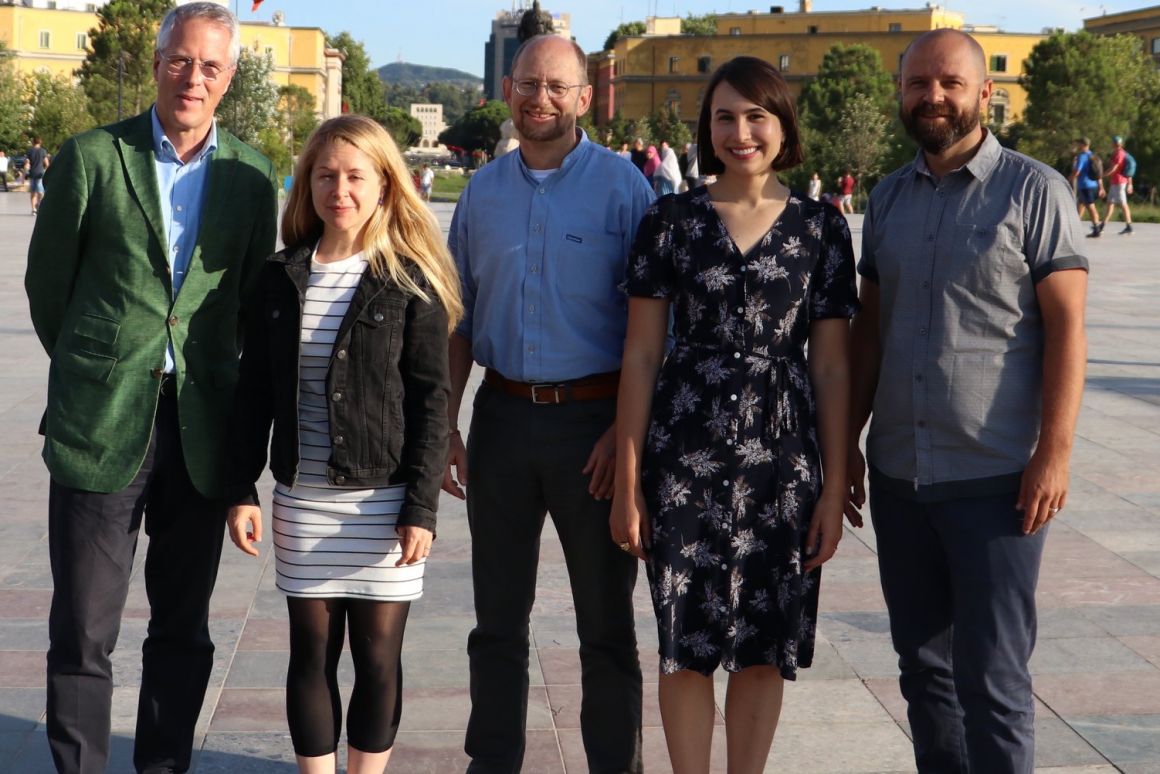 Dr. Jessie Hronešová is a visiting fellow at the London School of Economics where she studies political developments in the Western Balkans. She has also been working as a political advisor, manager and technical leader on a variety of international development projects for charities and consultancies in conflict-affected countries. In her consultancy capacity, her main focus has been capacity building of the civil sector, monitoring and evaluation of programs, gender and conflict analysis. Most recently, she has been assisting a Libyan NGO with its internal organisational growth. She previously worked at the International Criminal Tribunal for the former Yugoslavia, the Organization for Security and Cooperation in Europe, the Balkan Investigative Reporting Network and the Czech Academy of Sciences. In her research projects she has mostly focused on online sources of extremism, ethno-nationalism, and transitional justice as well as community-building and transitional justice in the former Yugoslavia. She has authored several studies on identity politics (including Post-War Ethno-National Identities of Young People in Bosnia and Herzegovina, 2012) and retributive transitional justice in several academic journals (most recent for the Journal of Peacebuilding & Development). She holds a DPhil from Politics (St Antony's College) at the University of Oxford with a thesis on victims' compensation in Bosnia and Herzegovina
Karen Karnicki is the program associate for the Rockefeller Brothers Fund's Peacebuilding program. Ms. Karnicki joined the RBF in 2015 as the program assistant for the Peacebuilding and Western Balkans programs. Prior to joining the RBF, Ms. Karnicki was an intern at UN Women, where she conducted research to support efforts to mainstream gender within the intergovernmental processes of the UN system. In 2014, she joined the inaugural team at Rhize, a nonprofit that seeks to build the capacity of grassroots social movements around the world by connecting them to skills, strategies, and networks. Ms. Karnicki also worked as an ESOL teacher in Prague, Czech Republic, and for the Islamic Civilization & Societies program at Boston College. She currently serves on the Steering Committee of the Peace and Security Funders Group. Ms. Karnicki holds a Master of Arts in human rights studies with a concentration in gender and transitional justice from Columbia University, as well as a B.A. from Boston College, where she double majored in Slavic studies and Islamic civilization & societies.
Andras Krolopp joined the TNC in 2012 as Senior Policy Advisor for TNC's Africa Region, focusing on EU policy issues. He is now with the Europe Region, covering European governmental relations with special focus on the EU institutions as well as on Denmark, Finland and Sweden in support of TNC's policy, conservation and public funding priorities. Currently he is Program Director for the "Balkans" component of the Enterprise grant and managing an EU funded project on private lands conservation. Prior joining TNC, Andras was working for IUCN (Brussels) first as Deputy Head for the Countdown 2010 Initiative, later as Senior Policy Advisor covering EU biodiversity and regional policies. He was also seconded to the Hungarian Government during its EU presidency and covered Biodiversity finance in preparations and during CBD COP in 2010. Before working for IUCN he was engaged with various NGOs, like the CEEweb (an NGO network covering Central and Eastern Europe), Global Nature Fund (Germany) and the European Centre for Nature Conservation (Netherlands). Andras has the MSc in Environmental Management and degrees in Biology and Geography. Besides his Hungarian mother tongue, he speaks English, German and has basic knowledge of Dutch and Russian languages.
Teo Petricevic is recognized social innovator, social business architect & consultant, social economy & civil society expert. Since 2007, he has been active in the development of social economy legislative, institutional, financial, and educational framework in Croatia and Western Balkan countries. He initiated and developed over 20 social businesses and support organizations. Mr. Petricevic is director of ACT Group Croatia, a community of change-makers, that operates as a regional social business incubator and accelerator. He holds a bachelor's degree in Project Management and Master's degrees in Commerce and is about to finish MBS in Co-operative and Social Enterprise Management.
Franz Karl Prüller currently serves as Senior Advisor to the Management Board of ERSTE Foundation and Savings Bank Group in Austria. Before this he was a member of that Management Board (2012-2016) where he served as CEO and Chairman 2015/2016. He joined ERSTE Foundation in 2005 as Programme Director for Social Development where he developed and directed the social business and impact investment activities of ERSTE Foundation. Prior to 2005 he held various positions in Caritas Austria (1988-2005), where he last served as Secretary General in charge of International Programmes from 1996 to 2005. He holds a BA in International Studies from Webster University, St. Louis/USA and a Master of Science degree in Development Management from the Open University in England. He serves as Chairman of the Supervisory Board of Zweite Sparkasse in Austria and on the Supervisory Board of good.bee Credit, a microfinance institute in Romania, as well as in the Steering Committee of the European Fund for the Balkans. Franz Karl is Deputy Chairman of the Network of European Foundations (NEF) and from 2014 he represents ERSTE Foundation in the Governing Council of the European Foundation Centre.