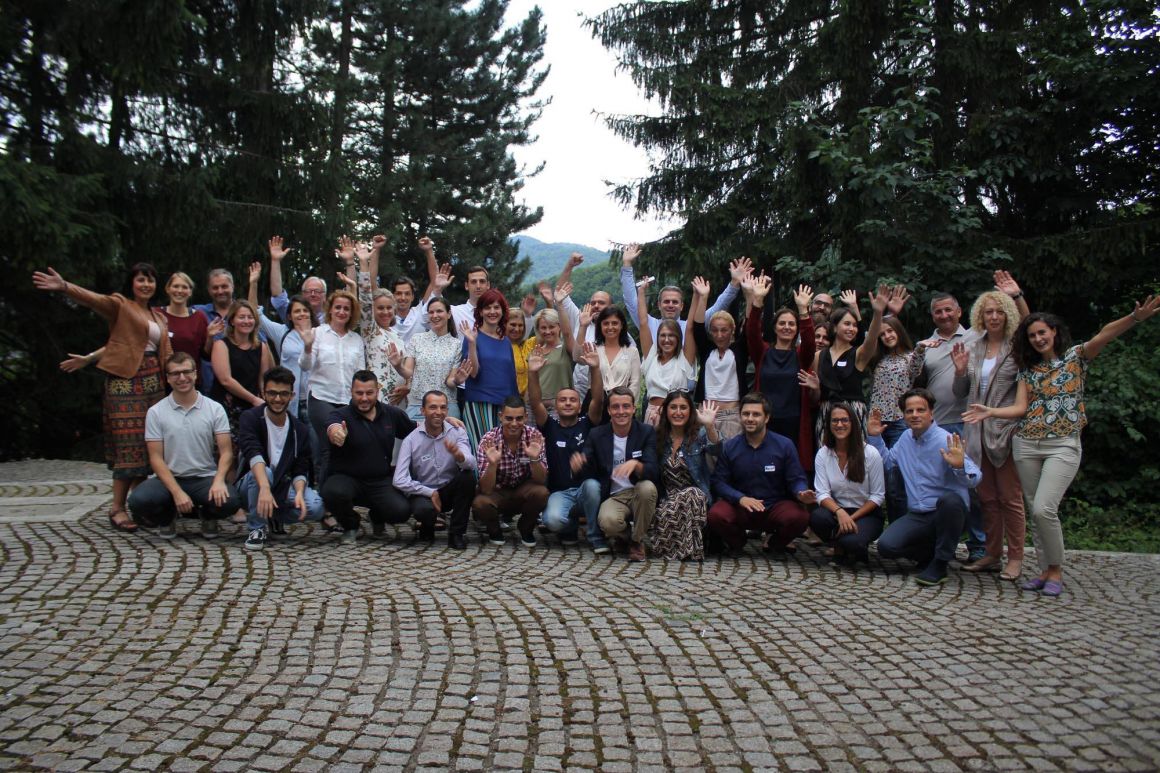 Green Ideas Presenters
Samir Arnautović studied law, peace and security, and got an MA in international relations and diplomacy. During his studies, he was a university senator for four years and a member of a legal committee. As a prominent student leader he was elected as the first student vice-rector at the University of Sarajevo after almost 40 years. As a senator and vice-rector he participated in the creation of a new High education law, encouraged higher participation of students in university management and participated in the organization and coordination of flood management action. He was also the creator and chief editor of weekly and biweekly student newspapers UPRAVU, SPONA and KAMPUS. He wrote two published books - short stories collection and a manual for student organization. Samir is passionate about painting, drawing, designing, constructing and plays several musical instruments. He loves outdoors, and has advanced knowledge on mushrooms. His first love is his wife and his second love is cooking. Currently, he is the president of the NGO: Odisej, dedicated to youth education.   
Natalija Burgieva (35) is a graduated economist coming from Skopje, Macedonia, with 10 years of working experience on different job positions in the field. Natalija is currently looking to continue his education in the field of Green Economy, narrowed to land and soil in the context of a green economy for sustainable development, food security and poverty control. She is an active member in Red Cross Macedonia and participant in their projects. She is also a member in S.O.S Detsko selo and other NGO's. As a member and active participant of "One Can" – single parent supporting group, she has seen the problems of this marginalized group and found a solution. At the moment she is founding MaMaOrgana-Social Enterprise for single moms, where they provide healthy food and material support through green ideas for their families, according to their own needs. Natalija also runs "Ljubov na Vtora" (Love at second sight) – a social media group, where she promotes the reuse and recycling of old objects with the application of new techniques. She is also the author of the MaMaOrgana blog for permaculture and sustainable living at WordPress Platform. Natalija is a mother of two.
Vucic Cetkovic is a young painter from Podgorica. He has been into painting and drawing ever since his childhood, more intensively in the past several years in his art studio in Podgorica, where he creates his pieces using oil, acrylic, drawing and collage techniques. So far, he has had exhibitions in Montenegro, France, UK, Austria, Germany and Spain. He graduated from the Faculty of Economics, the University of Montenegro. Then, he specialized at the Diplomatic Academy in Vienna in the area of Conflict Resolution, as well as at the Academy of Banking and Finance in Belgrade in the area of financial risks. He worked as an intern at the Commercial bank A.D. Budva, where he acquired further professional experience in banking in the sector of risk management, and he also served as a financial manager at the NGO Centre for Civic Education. 
Mario Crnkovic is a thirty-year-old computer scientist from Bosnia and Herzegovina, dedicated to social activism and peace-building for several years. He has helped over 100 projects where young people were the bearers of positive change in their local community. In addition, he is an active member of the non-governmental organization "Green Team", where he gives an immense contribution to raising ecological awareness. He is a winner of several honors for an outstanding contribution to the development of the Youth Bank program.
Miroslav Garic is a chemistry student on his final year of studies at the Faculty of Sciences. He is motivated to make a positive change in the life of the people of his community, Kragujevac (Central Serbia). Together with his fiancée, Marina Miladinovic, also a student of environment at the same Faculty, he started producing rare cosmetic oils (rosehip oil, blackberries seed oil, plum kernel oil, apricot kernel oil etc.) and dry fruits.
Jasmina Grbovic Novakovic holds a PhD in Physical Chemistry and currently has the position of Principal Research Fellow in Vinča Institute of Nuclear Sciences in Belgrade, Serbia. Jasmina is leading 7 international and one national project related to materials for renewable energy storage, mainly hydrogen storage. In 2009, she was awarded with the Outstanding Service Award from the International Association Hydrogen Energy for contributing to the popularization of hydrogen and renewables in Western Balkans. Jasmina wishes to start the production of quince and help her cousin to encourage and enable sustainability and the economic independence of his rural household.
Marija Jojic is a project manager at Piper's Green, a vegan and vegetarian food producer in Podgorica. She aspires to manage projects dealing with economic and social inequality, merged with environment protection, sustainable and green growth, and healthy lifestyles. Marija obtained her BA degree in English Language and Literature at the University of Montenegro. She spent her last year of undergraduate studies at the University of Groningen, Netherlands, through the JoinEU-SEE scholarship programme. Following her stay in Groningen, she obtained her Specialist of Arts degree in Translation Studies at the University of Montenegro. Her academic efforts were recognized twice with a certificate for best student performance, and best student of the Faculty of Philosophy, University of Montenegro. Marija obtained MSc degree in Project Management at the University of Southampton, UK, where she received the University of Southampton Business School certificate for best student performance.
Besart Konushevci is a 23 years old from Prishtina, who has a vision to build an EdTech startup for developing countries such as Kosovo. Besart has graduated from the International Faculty of University of Sheffield where he studied Business with a concentration in Finance and Accounting. His career was developed working for a Bank, Public Administration, and lately for a Higher Education Institution. During his studies in Thessaloniki, he was determined to use his skills and knowledge towards building the biggest EdTech company in the region; namely Platforma Akademia. Regional countries are being challenged by issues such as low quality of education and the integrity of Universities. Therefore, Besart believes that investing in improving the quality of education, prepares younger generations for the labor market and consequently contributes towards social and economic development. He works with a team of engineers and experts in the field of education, who believe will play an important role in reshaping the education system for the region. The message Besart is trying to transmit while working at Platforma Akademia is that technology and education are the present and the future of social prosperity.
Fisnik Kuqi is born on March 30, 1986, and he has finished primary and secondary school in Gjakova, continuing his university studies in Prishtina. He started working in one of the banks in Kosovo in 2008. His hobby is paragliding in the mountains. He started to cultivate mushrooms in December 2016, while the first mushroom he enjoyed is April 2017. In May, he attended a 10 day course in Holland for the cultivation of mushrooms.
Edvin Lamce holds a degree in History from the University of Tirana (2000-2004) and earning a profile in Archaeology. During 2008 – 2009, he completed a two-year program in archaeological restoration, which was organized by the Department of Archaeology, Bologna University (Italy) in Albania. Edvin is a project coordinator with GF and a certified national tourist guide in Albania. He is very good in proposing and coordinating the successful implementation of projects in the field of culture heritage and development. Recently, he is very involved in tourism as a tour manager and organizer of itineraries, especially in the South of Albania.  
Kreuza Lubonja is the Founder of Aroma Therapy Albania since June 2016, the first aromatherapy company in the country. The aim of the company is to create and promote healthy natural products with organic Albanian Essential oils, for skin, hair and ambience. Kreuza has an extensive experience in the field of business development and with a master's degree in Executive MBA.  
Milan Mijajlovic is the president of the NGO Scout Group "Njegos" from Podgorica. He is dedicated to ecology, organizing many environment protection activities with children and youth.  Milan's hobbies are related to website development (free platforms) and software and hardware maintenance.
Nikki Murseli is born in 1989 in Prishtina and graduated from Sapienza Università di Roma in the department of Architecture and Civil Engineering. She is the co-founder of the first social and cultural center in Prishtina "Termokiss". Currently she is working at the architectural design studio MA+P and continues to contribute as a volunteer at "Termokiss".
Slavica Orelj is a passionate breeder. She is cultivating and studying plants on her little agricultural holding. She inherited the love for nature as a young girl from her grandfather who was a fruit-grower and from her grandmother who was a medicinal herbs gatherer. On her farm, Slavica is raising only those species that can survive on their own in nature. She believes that nature has the best answers to the most challenging questions. This motto inspires and guides her in her work and private life. Slavica believes that modern life style and nature don't have to be necessarily opposed. This inspired her to devise Pompon, gluten-free pumpkin pasta, made in nature, without complex technology, simple to cook, that perfectly suit individuals, especially those people on special dietary needs.   
Kristian Shopov (29) is a graduate economist at the Marketing Department- St. Cyril and Methodius University in Skopje.  His hobby that grew into a profession is illusionism. For 14 years he has been making children and adults smile and keeping them entertained. In his illusionist career, he had over 1500 performances. Most of the performances are for children's birthdays but also for corporate events, such as New Year's celebrations, promotional events etc. On May 15, 2011 he held the first Festival of Illusion in Macedonia at the Universal Hall in Skopje, which was attended by 1500 spectators. Kristian's biggest satisfaction comes from his humanitarian performances because they help the marginalized people. He has performed for the Red Cross of the City of Skopje, the Humanitarian Association "Queen Esma and Stevo Teodosievski", the First Children's Embassy "Megjashi", the Animal Protection Association "Anima Mundi", and for the refugees at the refugee camps in the country.
Adriana Spahiu is the coordinator at the Development Alternative Resource Centre (NGO) since November 2016. Previously, Adriana has volunteered for the organization on advocacy and lobbying for environmental and youth issues.  She supports the Project Managers in their day to day duties; coordinates project work for better implementation of the activities; tracks, analyzes and reports on project status and also, ensures that project communications run smoothly, keeping key stakeholders and decision makers engaged. She holds a bachelor degree from University of Tirana, Faculty of Foreign Languages, Italian Branch and currently is attending masters for "Communication and Cultural Heritage".
Nebojsa Vucenovic is 34 years old, and comes from Povelic, a village near the municipality of Srbac (north of BiH). He finished the elementary and secondary trading school in his hometown. Currently he is employed in the Srbac municipality at a postal delivery. He is a member of the mountaineering association "Videta" and he likes to spend his spare time with his friends in the mountains. He is also a member of the Association of Parents and Children with Special Needs "Izvor" from Srbac. At home, he raises goats, and recently he tried to produce a natural soap from goat's milk and thus, launching the "Step Forward" project based on the production of natural soap of goat milk, having as a goal to bring together and socialize young people, while learning something new.   
Jane Zaevski is 24 years old from Skopje, Macedonia with a business mind and a philanthropic heart. He earned his degree in Economics at the Ss. Cyril and Methodius University. He was awarded with a one year full scholarship educational stay at the Programme of Management and Finance at the respected Karl-Franzes University in Austria.  Jane is currently enrolled on Master of Sciences in Project management and working full time in the field of finance. He has done one month of European Voluntary Service (EVS) in Altamura, Italy for a project that aimed to help locals organize events on making their city greener and festivals for raising awareness for old forgotten values. He is passionate about nature and making the society a better place to live.
Partners
Vesna Bajšanski-Agić is the Executive Director of Mozaik Foundation. She joined Mozaik in 2008, as Mozaik begun its transformation into a social enterprise. Today, Mozaik Foundation is the leading social enterprise in the Western Balkans, engaged in programs relevant to youth social entrepreneurship and social innovation. She is a Governing Board member of two social businesses that support the disadvantaged and promote reconciliation in an economically sustainable way, and a Board member/president of two national NGOs. Prior to joining Mozaik, Vesna worked for ten years in various management positions in other national NGOs focused on social justice and she is an internationally certified trainer for Education for Social Justice. She is a member of several national and international groups and networks, including Governing Council member of the EFC, Steering Committee chairperson of GEF, SIGN Network, ISSA. She has a degree in Economics from the University of Sarajevo. Vesna is a 2012 recipient of the European Marshall Memorial Fellowship awarded by the German Marshall Fund of the United States.
Dajana Berisha is the Executive Director of the Forum for Civic Initiatives. Dajana joined the forum in February 2013 to manage the development and direction of the Forum including design objectives, strategies and activities. Her previous professional experiences include policy-making in areas such as employment, social affairs and migration in order to support active employment policies combined with economic assistance for poverty alleviation. In this capacity, Dajana has served as the institutional representative on a number of European events, international institutions, or in bilateral meetings between governmental institutions of the Western Balkan countries. Dajana has extensive knowledge and experience regarding the professional development policy and regional cooperation in the Western Balkans, which combined with the ability to understand cultures and geopolitics of the region, provides premises for efficient leadership. Dajana graduated in the field of linguistics and literature, holds an MA in International Migration Policies and Development from the University of Sussex, and was educated in Albania, Great Britain, Denmark and Sweden.
Anica Maja Boljevic has been the executive director of the Fund for Active Citizenship (fAKT) since its foundation in 2008. She served as the Head of Catholic Relief Services (CRS) program in Montenegro from November 2002 to October 2005, after she had managed CRS youth advocacy and leadership program for two years. Before joining CRS, Maja was a an English high school teacher for eight years. Her professional background and experience have been strongly linked to education and civil society programs, with an emphasis on supporting and fostering civic participation to encourage proactive problem solving and responsive governance. She is a member of the national Council for NGO Development and serves on several boards of Montenegrin non-profit organizations.
Biljana Dakic Djordjevic is the Executive Director of Trag Foundation, an indigenous non-profit foundation supporting local communities and grassroots activism in Serbia. Trag Foundation encourages citizens' engagement and promotes local philanthropy. Biljana has eighteen years of professional experience in the non-profit sector, with extensive knowledge on fundraising and partnerships development, strategic planning, program management, and cross-sector cooperation. From 2012-2014, she managed a regional grant-making program with the Balkan Trust for Democracy (BTD), a project of the German Marshall Fund of the United States. As the Development Director of the Belgrade Fund for Political Excellence from 2004-2012, she supported capacity building of political and public leaders in Serbia and the Balkans. Biljana is a board member of the UN Global Compact in Serbia, Serbian Philanthropy Forum and DobroCiniTi philanthropic initiative. She is Deputy Chair of the Council for Corporate Social Responsibility affiliated with the Serbian Chamber of Commerce.  
Juliana Hoxha started Partners Albania as an independent organization in 2001. She brings a 16-year long experience in developmental issues, advocacy campaign, training and consultancy at national and regional level.  Her experience includes a long and successful working relation with ODA donors, international and local organizations in Albania.  She has a rich experience in project design, development and management, training curricula development and delivery, proposal writing and cross sector relations. She has significant experience in program evaluation and assessment design and administration, and extensive involvement in grants program design and management and especially umbrella grants for local organizations. Further, Juliana has strong professional relationships with the non-for-profit, local government, donor community and relevant government institutions. She has eleven years of experience in managing three USAID cooperative agreements, training and grant programs.
Irina Janevska is the founder and president of the Organization for Social innovation ARNO. Also, she is Y-PEER Macedonia Focal Point, and First Curator at the World Economic Forum Global Shapers Skopje Hub, devoted to working on initiatives that ensure social impact and community outreach. At ARNO, Irina focuses on initiatives that promote sustainable development, social entrepreneurship, and advocacy for post-2015 processes in the country. Under her leadership, ARNO's team earned the 2nd place at the Social Impact Award and grew into an entity that is recognized as pioneer in the field of social entrepreneurship (SE), while Irina is part of the working group that works on the creation of the SE Legal and Fiscal Framework in the country.  Previously, Irina held management positions in other CSO's/ Intl. Agencies working on projects supported by diverse donors: UNFPA, UNDP, MTV Staying Alive, Embassy of Switzerland in Skopje/Swiss Cooperation Office, the British Embassy in Skopje etc. Irina holds a BA in Communications Sciences and an MA in Cultural Studies.
Elona Kapexhiu joined Partners Albania since its establishment in 2001, and holds the position of Communication Manager. She has over 23 years of experience working with international and Albanian non-governmental organizations in Albania, with a strong emphasis on PR and communication management, office and financial management. Part of PA research and training team, she has a long experience in research design and implementation, management of databases and information elaboration, and design and provision of trainings on PR and communication management. Elona is one of the lecturers of the Partners Albania's NPO Academy since 2015.
Željko Pauković is a pioneer of NGO development in Bosnia and Herzegovina with 20 years of experience in several organizations, with particular professional focus in creating sustainable programs for youth leadership, organization and community development. He is one of the founders and the Executive Director for ten years of Youth Communication Centre, one of the largest and the most respective youth NGO in Bosnia and Herzegovina. Over the last nine years he serves as a Program Manager and Program Director of Youth Bank Program, at MOZAIK Foundation, responsible for the overall development and implementation of the program in Bosnia and Herzegovina and region. He provides technical advice/capacity building in youth outreach, social innovation and development, and facilitating cross-sector partnership. Further, Željko provides leadership support in securing partnership with governments, businesses, and other stakeholders. He completed postgraduate master's degrees in Economics (Human Resource Management).
Dragan Sreckovic is Program, Monitoring and Evaluation Director at Trag Foundation. From 2006 to 2015, Dragan worked with Institute for Sustainable Communities (ISC) to implement two USAID programs in Serbia - Civil Society Advocacy Initiative and Civil Society Forward, which aimed to support effective advocacy at the national level on issues of critical importance for meeting EU standards and advancing Serbia's democratic development. While at ISC, he conducted several short-term assignments in Ukraine, Kosovo and Macedonia. Prior to joining Trag in February 2017, Dragan worked at the Church World Service, where he managed humanitarian and development programs in Serbia, Bosnia & Herzegovina, Moldova and Georgia. Fruther, he has more than ten years of experience in development work, with expertise in monitoring and evaluating development projects, managing grants, assessing project proposals, qualitative and quantitative research, project and program development and management. Dragan developed and managed different evaluation, assessment and research projects, managed grants to CSOs and supported development of different sub-granting schemes for civil society in Serbia.
Guests
Maja Anteska works for EBRD Advice for Small Business since its' establishing in Macedonia in 2002, where she was initially employed as Project Specialist in the Business Advisory Programme. In 2010 she was promoted to Enterprise Growth Programme (EGP) Local Manager, while in 2012 she was promoted to Principal Manager, managing the Advice for Small Businesses activities in the country. With more than 1000 advisory projects behind and with a BA in Economics and Financial Management and an MSc in Entrepreneurship, she has deep a understanding of the private sector development challenges. She has also been active in promoting blended EBRD instruments: Advice and Finance and instrumental for obtaining the government and EU support for EBRD SME work. In parallel to standard advisory programme implementation since beginning of 2015,  she leads the team for implementation of Women in Business Programme in the country funded by SIDA and Luxembourg, which  promotes and supports access  to finance and access to know how among women run businesses. She is a Certified Management Consultant, and for three years she was a member of the management structure of Management Consulting Association 2000. She is a great supporter of Social Entrepreneurship in the region.
Božena Jelušić is a literature and media literacy teacher in "Danilo Kiš" gymnasium in Budva and the winner of the most prestigious award in the field of education in Montenegro (Oktoih).  She was a member of the National Council for General Education involved in the reform of education, and she is also a writer of the gymnasium textbooks and handbooks. In 2013, she was the leading author of UNDP research on human capital of Montenegro "People are the real wealth of the country - How rich is Montenegro?" She is also an NGO activist and a columnist for the daily newspaper "Vijesti." She is the president of the Iskra Award Comitee (fAKT). Božena is mother of three children.
Maria Šnjegota is 19 years old. She just graduated secondary school in Srbac and enrolled in the Faculty of pedagogy. She was a president of the secondary school council, active member of two organizations (CEZAR and Milenium), and one of the key group member implementing the International voluntary eco camp ''Youth for life''. Currently she is an active member of Youth Bank Srbac. Her role is as the personal assistant to Nebojsa Vucenovic.
Organizers
Visar Azemi is the executive director at the Balkan Green Foundation and coordinator of the Kosovo Civil Society Consortium for Sustainable Development. Previously, Visar served as the representative and lecturer for the University of Maryland University College (UMUC) in Camp Bondsteel, Kosovo. He has over ten years of professional experience in non-profit sector, with extensive knowledge in partnership development, strategic planning, program management, and marketing. His prior work also includes management work with the Central Texas College, International Organization for Migration, and KBR. Visar holds a graduate degree in electrical engineering from the University of Pristina, a second Bachelor's degree in Management Studies, and a Master's degree in International Financial Management from University of Maryland University College.
Rinora Gojani is the program manager at the Balkan Green Foundation. Rinora specialized in European Union politics and policy and has a special interest in the energy sector, sustainable development, and activism in the Western Balkans. Previously, Rinora worked as a Senior Research/Policy Analyst for sustainable development issues at the Institute for Development Policy, where she also liaised with global environmental and sustainable development policy organizations. Additionally, she worked at the Ministry of European Integration where she cooperated intensively with the Ministry of Energy and Mining on providing inputs to the European Commission Progress Report. Rinora has been active in various civil society organizations, such as Integra NGO, where she coordinated 'Our Future European Integration' project, an exchange program which brought together young people from Kosovo, Serbia, and the Netherlands and Youth Initiative for Human Rights, where she mobilized volunteers, organized street actions and monitored implementation of laws. Rinora has extensive experience in fundraising and organizing campaigns, with a focus on social, environmental, and development issues.
Karen Karnicki is the program assistant for the Rockefeller Brothers Fund's Peacebuilding and Western Balkans programs. Prior to joining the RBF, Karen was an intern at UN Women, where she conducted research on gender mainstreaming within the UN system. In 2014, she joined the inaugural team at Rhize, a start-up nonprofit that seeks to build the capacity of grassroots social movements around the world. As a fellow at Rhize, she helped grow the organization by fundraising, managing research projects, developing training materials, and assisting with program design and implementation. Karen also worked as an ESOL teacher in Prague, Czech Republic and as an assistant for the Islamic Civilization & Societies program at Boston College. She holds a Master of Arts in human rights studies with a concentration in gender and transitional justice from Columbia University, as well as a B.A. from Boston College, where she studied Slavic studies and Islamic civilization & societies.