2015 Jury Members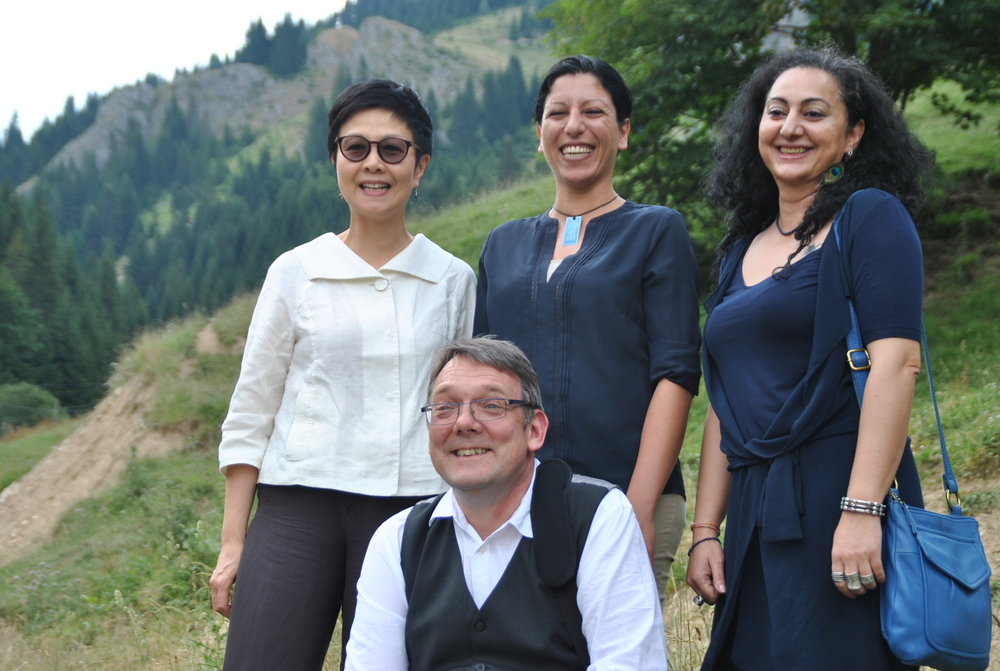 Jury members during the break and short walk through the valleys of Boge Rugove
Hania Aswad, Executive Director, Naseej Foundation
Hania is a 'social justice' and 'arts & culture' activist. Over the past twenty years, Hania has worked in a number of countries around the Arab Region where she held different positions in various organizations such as NGOs, networks, and philanthropic and academic institutions as well as with governmental bodies.  Currently, she is CEO & Executive Director of the Naseej Foundation – Resources for Community Youth Development in the Arab World, a regional foundation registered in Belgium and Jordan which operates in more than 18 Arab countries.
Shenyu G. Belsky, Program Director, Southern China Program, Rockefeller Brothers Fund
Shenyu is program director for the Southern China portion of the Rockefeller Brothers Fund's Pivotal Place program, where her work focuses on environment and health, energy and climate, and community leadership. Prior to joining the Rockefeller Brothers Fund, Ms. Belsky served as a senior program director at the National Committee on U.S.-China Relations where she developed and implemented a wide range of programs addressing critical issues in contemporary China, including labor and employment, public health, civil society development, and education. Ms. Belsky also served as a consultant for a series of China-related documentaries broadcast on PBS. Earlier in her career, she taught English as a foreign language, and held staff positions with several community organizations that provide language training, health care, and other services to immigrant populations. Ms. Belsky was raised in Guangzhou and Shanghai, and educated in China and Australia. She is a trustee of the Lingnan Foundation, and an advisor to a number of Chinese and international organizations.
Frank Morawietz, Special Representative for South East Europe, French-German Youth Office
Frank has many passions among which international politics, European integration process – especially of the Western Balkans, regional cooperation in South Eastern Europe, French-German relations, and the possibilities and challenges of the fascinating new media. But most of all, he likes sailing the ocean. This might be explained by the fact that Frank was born in Hamburg, the beautiful seaport city in the North of Germany. However, he grew up in the Saar, near the French border. The French-German relations soon became an important part of his socialization and interest. At the age of 17, he moved to Paris and later to the French Caribbean island of Guadeloupe. A next important intercultural and political moment of his life was the fall of the Berlin wall in 1989, after which he moved to East Germany. There, with the support of the European Commission and the West German Government, he organized a series of public interventions titled "The GDR on the way to Europe". He then worked for 10 years as a project manager for French-German programs at the Gustav-Stresemann Institute in Bonn, an institute for civic and political training. Currently based in Berlin, Frank is working as a freelance intercultural trainer and project manager. He regularly conducts intercultural trainings for international enterprises, organizations and municipalities, and develops new methods of intercultural training. Since 2000, he is also working as special representative of the French-German Youth Office, managing the implementation and development of the South Eastern Europe Initiative. Frank is married and has a daughter.
Fayrouz Sharqawi, Local Mobilization Coordinator, Grassroots Jersusalem
Fayrouz is the local mobilization coordinator at Grassroots Jerusalem, a platform for civil society activism in Palestinian communities in the occupied city. Based on information gathered in a bottom-up participatory process, Fayrouz supports community leaders and organizations in mobilizing and networking around short and long term challenges. Prior to this, she was a media coordinator at the Association for Civil Rights in Israel. She graduated from the Hebrew University of Jerusalem with a Bachelor's degree in Journalism and English Linguistics, and a Master's in Conflict Management and Resolution.