2012 Jury Members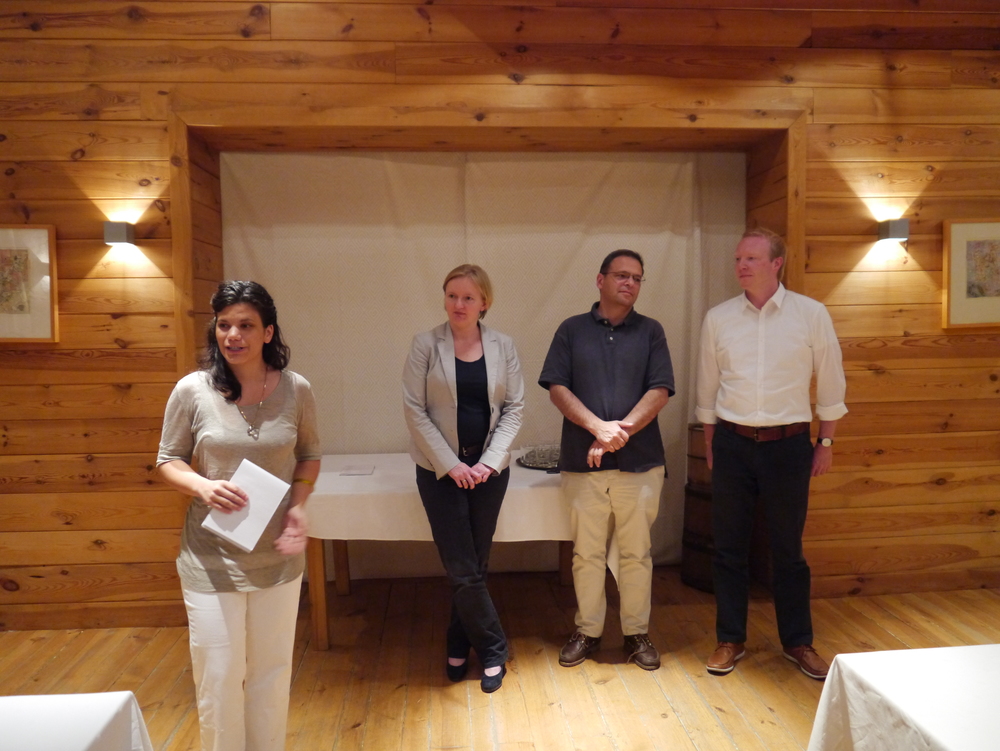 Jurors announcing 2012 winners in Kolasin, Montenegro
Robin Gosejohann, Project Manager, ERSTE Foundation
Robin Gosejohann works as project manager for the ERSTE Foundation. Based in Vienna, Robin oversees initiatives with focuses on journalism, media, youth, and education. He represents ERSTE in the Steering Group of the Grantmakers East Forum, a forum for interlinking donor activities in Central and Southeastern Europe. Prior to his work with ERSTE, he worked for the think tank European Stability Initiative (ESI), where he was responsible for program coordination and management of the ESI offices in Berlin and Istanbul. He has a background in NGOs as well as in grassroots and political campaigning in both Britain and Germany. Mr. Gosejohann studied modern and economic history in Bielefeld and Leipzig as well as peace and conflict studies in Uppsala.
Katharine Millonzi, Operations and Development Manager, New Economics Institute
Katharine Millonzi has a breadth of experiences in the sustainability and social change sectors worldwide. An eco-gastronome and food systems designer, she brings an integrative, multidisciplinary perspective to the relationship between culture and nature. After working in international public health, she launched two start-up food businesses centered around environmental and social justice. She went on to direct the Sustainable Food and Agriculture Program at Williams College, where she examined the role of institutional procurement within regional economic development. She is currently the Operations and Development Manager at New Economics Institute, a U.S. organization that aims to effect a transition to a new economy—an economy that gives priority to supporting human well-being and Earth's natural systems.
Ms. Millonzi holds an MA in food culture and communications from the University of Gastronomic Sciences, founded by Slow Food International. She also holds a BA from the University of London in social anthropology and international development and was a 2007 Fulbright Fellow in Italy.
Julian Popov, Chairman, Bulgarian School of Politics
Julian Popov is the chairman of the Bulgarian School of Politics, the founding chief executive of the New Bulgarian University, chairman of the foundation for creative writing, Elizabeth Kostova, member of the boards of the New Bulgarian University and the American University in Bulgaria, and Honorary Secretary and Treasurer of the UK charity, Friends of Bulgaria. Since 2008 Mr. Popov has been the adviser of the European Climate Foundation on low carbon policies and strategic communication in Central and Eastern Europe. He is the author of two books and a large number of opinion articles for Bulgarian and international media, including The Independent, BBC, Al Jazeera, Gazeta Wyborcza, and others.
Mr. Popov started the first political blog in Bulgarian and initiated a number of public campaigns. He currently leads the initiative for establishment of schools of politics in North Africa. He studied literature at Sofia University and later management at the Open University UK. Mr. Popov lives in London with his wife and two sons.
Hanna Surmatz, Legal Counsel, European Foundation Centre
Hanna Surmatz has been the legal counsel for foundation law at the European Foundation Centre, AISBL (EFC) in Brussels since May 2004. Her main responsibilities include monitoring, mapping, and analyzing relevant national and European developments that affect foundations' operating environment; coordinating benchmarking exercises; and facilitating information exchange on foundation law matters through publications and events. She coordinated the drafting of the EFC recommendations for a European Foundation Statute and was also a member of the Core Team of the "European Foundation Project," under the leadership of Professor Hopt, director of the Max Planck Institute for International Private Law in Hamburg and Professor Walz, director of the Foundation Law Institute of the Bucerius Law School in Hamburg. She recently coordinated the publication of a study on transparency and accountability regulation in Europe.
Currently Ms. Surmatz also works as part of the team of the Global Philanthropy Leadership Initiative, a joint project of the EFC, the Council on Foundations, and the Worldwide Initiatives for Grantmaker Support (WINGS). It aims to develop new ways to advance the practice and impact of philanthropy at the global level in key areas, including improving the legal and regulatory environment for philanthropy in a global context. Between 2001 and 2004 she was employed by the Association of German Foundations (Bundesverband Deutscher Stiftungen) in Berlin, where she also worked on foundation law and European matters. She studied law at the Westfälische Wilhelms-University Münster, Germany and in Poitiers, France. She also serves on the board of the European Center for Not-for-Profit Law (ECNL).